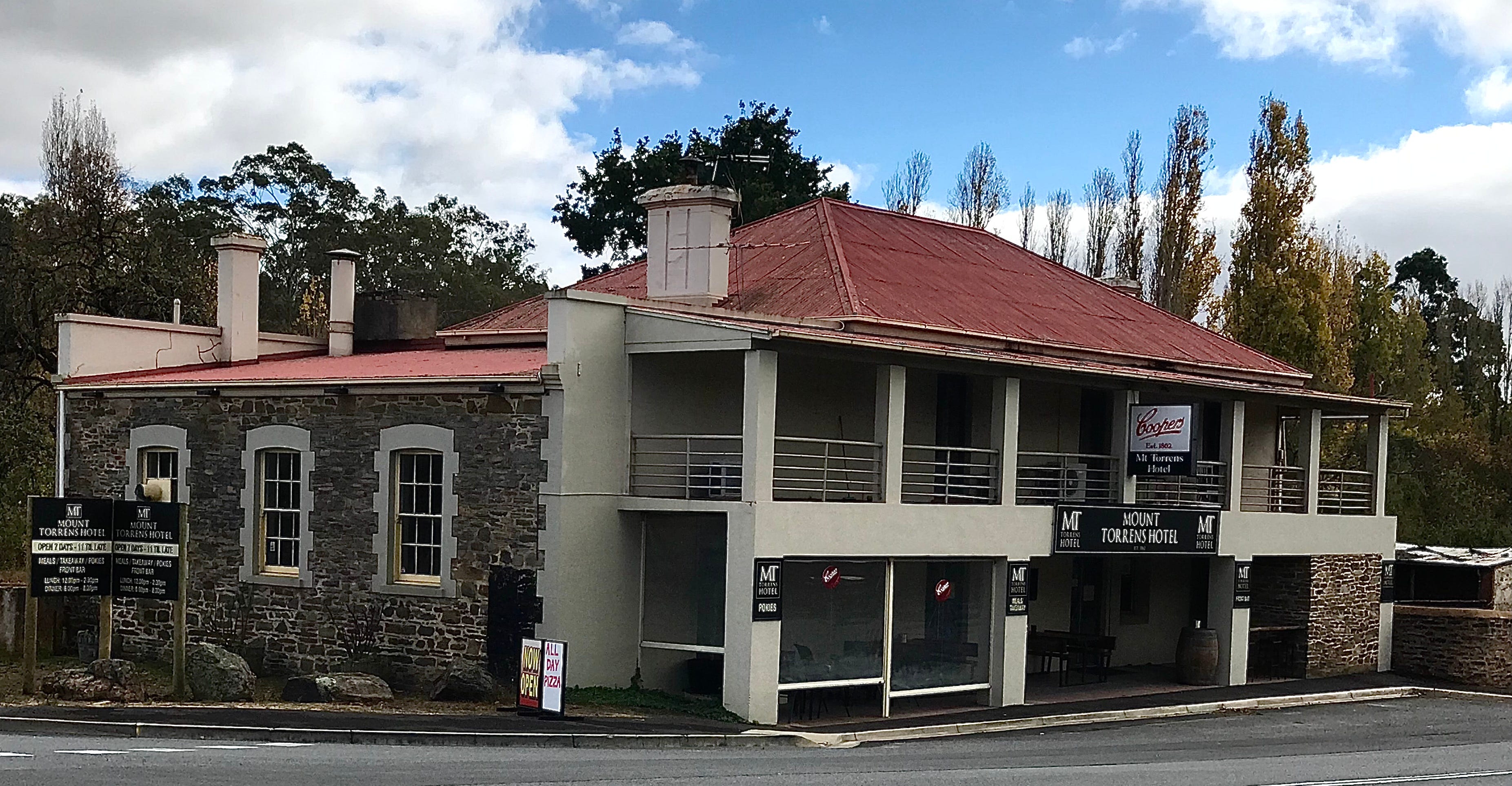 Mount Torrens Hotel
Family owned hotel open 7:30 am till late every weekday and 8am till late every weekend, Offering breakfast, lunch and dinner daily, front bar with an open fire place, arcade machine, large newly renovated outdoor beer garden perfect for enjoying a meal and a drink in the sun. First opened in the 1850`s in the unique heritage listed town of Mount Torrens just 50 minutes from Adelaide.
ORDER YOUR MEALS ONLINE !!
Its now so much easier to order and pay for your dine in or takeaway meals, follow the link below to order some delicious food
WILL YOU BE JOINING US FOR OUR ANNUAL HALLOWEEN PARTY ?!
OPENING HOURS
7 days, excluding Good Friday & Christmas Day
Weekdays - 7:30am till late
Weekends - 8am till late
Public Holidays - 9am till late

BREAKFAST SERVICE -
weekdays - 7:30am till 11am
weekends - 8am till 11am
public holidays - 9am till 11am
LUNCH SERVICE - 12:00pm till 2:30pm
DINNER SERVICE - 6:00pm till 8:30pm
PIZZAS AVAILABLE ALL DAY 12pm - 8:30pm

- open everyday for breakfast, lunch and dinner
- takeaway beer, wine & spirits
- all meals available for dine in or takeaway
- multiple dining areas
- newly renovated front bar
- arcade machine & bingo machine
- large outdoor beer garden with fire pits
- open fire in front bar
- accomodation
SUPPORTING LOCAL BUSINESSES
As a business we are huge believers that supporting other local businesses is one of the most important things you can do, that's why we try to support local businesses wherever possible from food to drinks and everything in between.

Thank you to our incredible supplies
~ Lobethal Road Wines
~ Signature Wines
~ Mount Pleasant Butcher
~ Hahndorf Fruit & Veg Market
~ Farm Yard Wines
~ Two Fish Coffee
- Rehn Bier
~ Tweed Vale Milk
~ Kersbrook Hill Wine & Cider
~ Little Glow Candle Co.
~ Reform Distilling
- Applewood Distillery
~ Stubby's Inc
~ MK`s Jerky - COMING SOON